Expert Roof Repair Services in Tulsa, Oklahoma TIER-ONE ROOFING
Tulsa Storm Damage Repair
Prompt Help for Roof Damage Caused by Hail, High Winds, Fallen Trees & More
If you've lived in Oklahoma even for a short time, you have likely become all too familiar with the sound of tornado sirens. Our state is especially prone to these extreme weather conditions, and when tornadoes, hailstorms, or high winds come sweeping down the plains, your roof is highly susceptible to damage.
In some cases, the damage is extremely obvious, such as when gusts of wind knock down an entire tree across your roof. In other scenarios, however, the damage may be much harder to detect from the surface. Just because there are no gaping hole does not mean that your roof is sound.
For comprehensive storm damage repair following one of these natural disasters, immediately get in touch with our experts at Tier-One Roofing. Located in Broken Arrow, we proudly serve homeowners in Tulsa, Oklahoma City, Bixby, Jenks, and the surrounding communities.
Contact us now at (918) 393-4682 so our Tulsa storm damage repair professionals can help you get back on your feet after a terrible storm.
Why You Should Immediately Schedule an Inspection After a Storm
Storms can blow shingles away, punch holes in the roof, or even blow the entire roof off your home. They can also leave damage that is not easily detectable to the average person's eye — damage that can result in the internal structure of your home becoming debilitated and unsound or make an environment where dangerous black mold can thrive.
This is why you need to act fast when a storm passes through. A compromised roof leaves your home vulnerable to even more damage if another storm hits, an event that is often a regular occurrence here in Tulsa. Our skilled technicians can thoroughly evaluate the extent of repairs you require and set to work applying fast and effective solutions.
Ready to Get Started?
Contact Us
Hail Damage Roof Repair in Tulsa
Hail can be expected in the Tulsa area about two to three times a year. Some years, the city hasn't been any reports of hail. Other years, hail has caused an accumulated millions of dollars in damage to property. No matter the severity of your roof's hail damage, we know how to correct special issues caused by our local hailstorms and get your roof back to normal again.
What Does Hail Damage Look Like on a Roof?
Hail damage on asphalt shingles looks like small black dents.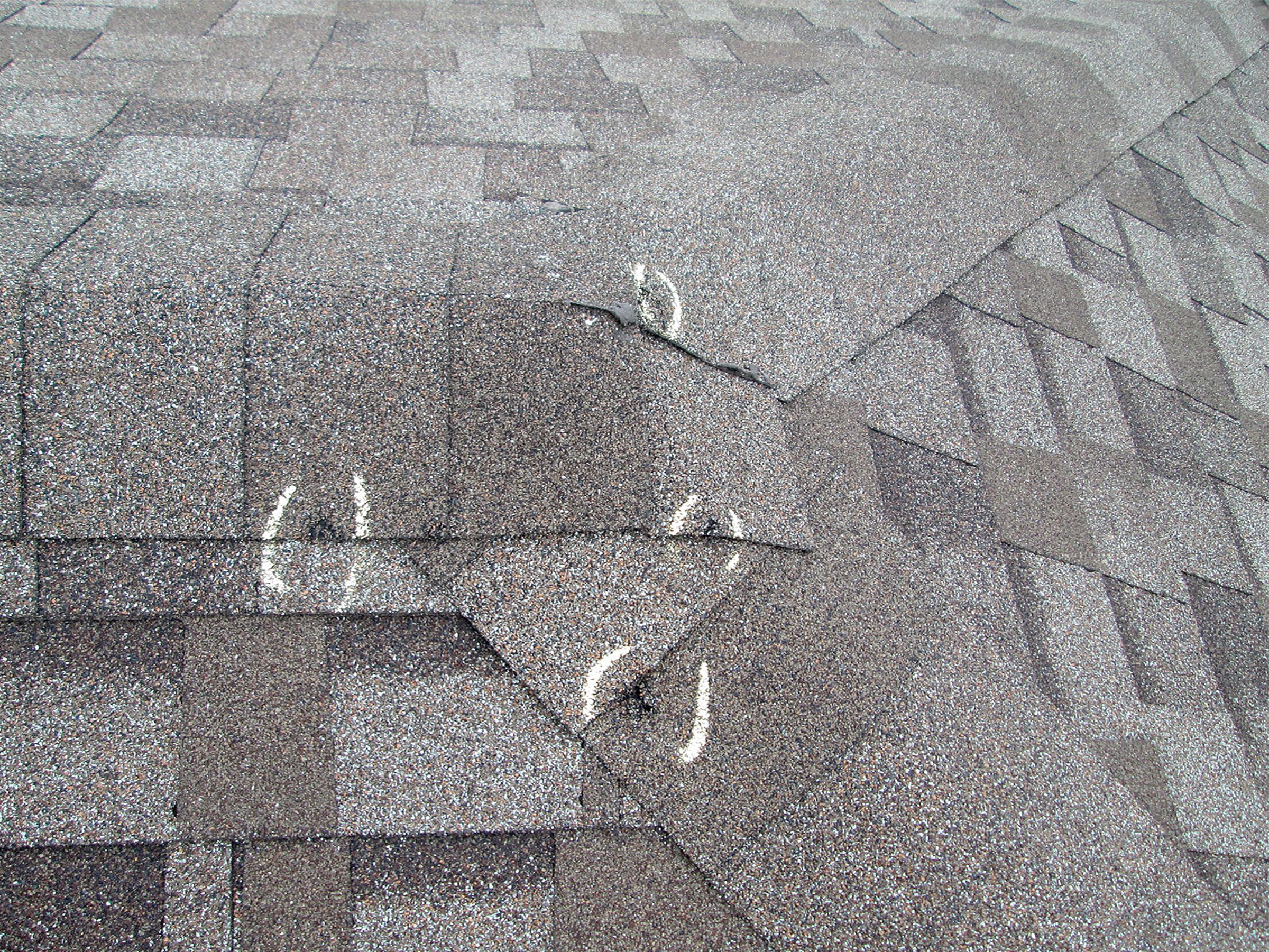 It takes hail over the diameter of one inch to create marks like this. But if you don't see these readily, it doesn't mean your roof was safe from hail damage. Be sure to look out for any dings or dents on your gutters, roof flashing and roof vents.
Learn more about hail damage to roofs here, or give our Tulsa roofers a call today at (918) 393-4682.
Guaranteed Satisfaction

FREE Estimates

Veteran Owned
Identifying the Signs of Storm Damage
Being aware of the typical signs that your roof has been damaged by a storm is very important, so that you can reach out to our Tulsa storm damage repair experts to rapidly secure and fix the problems before the next raincloud shows up. 
Some of the most common signs that your roof has been harmed by a storm include:
Dented siding or actual holes in the panels
Siding that has become chipped
Siding pieces that have been cracked, torn down, or completely blown away
Paint that has been peeled or chipped off
Large damp spots in the roof
Discolored water stains
Insurance Support for Storm Damage Claims
One of the biggest advantages of coming to Tier-One Roofing for aid after a storm is that our Tulsa storm damage experts aren't just roofing specialists — they are insurance experts too. After having just survived a severe natural disaster, you are likely feeling overwhelmed about trying to restore everything to normal, and filing an insurance claim can add even more stress. The good news is that we can walk you through every step of filing your claim and help you get a fair payout.
Call us today at (918) 393-4682 or contact us online to receive a free estimate for prompt storm damage repair in Tulsa, Oklahoma City, Bixby, or Jenks.
Protect Your Home with Quality Roofing Materials
When it comes to your home's roof, quality matters. At Tier-One Roofing, we understand the importance of using top-notch materials to ensure the longevity and durability of your roof. That's why we only work with trusted suppliers and offer a wide range of high-quality roofing materials for our customers in Tulsa, OK.
Benefits of choosing quality roofing materials include:
Enhanced protection against harsh weather conditions
Improved energy efficiency, reducing heating and cooling costs
Increased curb appeal, adding value to your home
Reduced maintenance and repair needs
Extended lifespan of your roof
Whether you're looking for asphalt shingles, metal roofing, or tile options, our experienced team can help you choose the right materials that not only meet your aesthetic preferences but also provide long-lasting performance. Contact us today to schedule a consultation and learn more about our quality roofing materials.
The team at Tier-One is exactly as the name says!! I was nothing short of impressed at how quickly Tier-One was able to get to my house and get the job done. With most contractors, its delays and never-ending issues. I am pleased to say that this is not the case with Jonathan and his team! Highly recommend!
How Can We Help?
Our Services